The gaming industry continues to grow and more new games are launched on the market, from year to year. If you want your game to be successful and profitable, you have to differentiate yourself from your competition. Game customer support is a perfect way to do this and keep your players close.
It is well known that in order to successfully provide a service, you must always be above your customers' expectations. Therefore, gaming customer service needs to reflect your level of commitment by consistently delivering quick, personal and proactive player support.
Game customer support- how important is it actually?
The video games industry is realizing that customer service can be more than just a cost factor; it can be a significant revenue generator. The best video game developers know that in order to maintain a player's loyalty and satisfaction at the highest level, it is extremely important to have a quality support system. The players have high expectations for your games, so you have to give them the support they expect.
In order to have as many players as possible and make them come back for longer, you must prevent and successfully solve those problems such as technical, payment, or any problems related to the game. if you do this, the players will continue to have fun, recommend the game to their friends and even buy more games from you. So, it's vital to make the players feel like they've been helped to the best of your ability.
Key points for engaged players
To make sure that the customer support service is always at a higher level, here are a few of some points that must be met.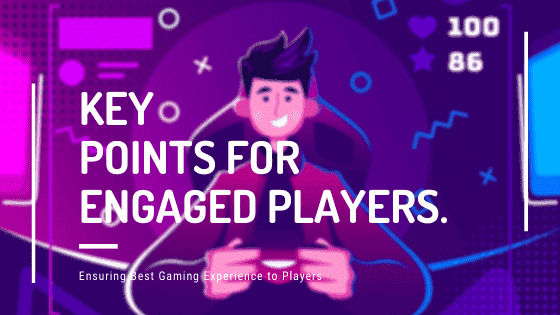 1. Understand your players.
Gamers need to feel engaged both by the game and the company that created it, and cared for when they come across a bug, a glitch or any other problem that impacts the gaming experience.
Because when we talk about gaming, we talk about an experience — and not just any other product like a table or a mouse pad. Gamers won't play something else when they find a bug, but they will if they get poor support.
2. Tailor customer service to specific platforms.
Your service player support must adapt according to the players' favorite platform, like a PC, console, or a mobile ( thanks to game ported services you can found games for all platforms). Your service must also adapt to different types of players.
3. Ensure real-time, multi-channel support.
You have to respond to your player's requests and queries whether it's through email support, Live chat, specialist platforms, or on social networks. You have to make sure your players keep a finger on their community's pulse and use that insight to drive continuous and expected innovation.
4. Comprehensive Multilingual Player Support
For engaged players, you have to provide the most knowledgeable and precise solutions in any language, speak the same language as your players, and understand the issues they are facing.
Final Thoughts
Every touchpoint with a player is an, to stand out from the crowd, create brand loyalty, increase a player's lifetime value, and even use real-time feedback to improve games. That is why those who deal with this service must be professionals and, ideally, be gamers in their turn. No one understands gamers better than other gamers, so your support team should be made up of people who also play video games, or at the very least understand the game. Hiring gamers who understand the passion of their fellow enthusiasts, and speak their language, can produce even more rewarding support and a more meaningful connection.
Starloop Studios provides comprehensive player support services for gaming studios, publishers, and developers worldwide. Our engaged and empathetic multilingual player support teams are perfectly equipped to help increase your game's online visibility and keep your players coming back for longer through careful and extensive support across various platforms.
Starloop Studios is proud to be part of the Magic Media group, an international group specialising in entertainment and gaming industry services. Our wide range of offerings includes VFX, blockchain gaming, game art services, and more. Reach out today to avail of our expertise and A-Z services for your projects.