La industria de los juegos sigue creciendo y cada año se lanzan al mercado más juegos nuevos. Si quieres que tu juego tenga éxito y sea rentable, tienes que diferenciarte de tu competencia. El servicio de atención al cliente de juegos es una forma perfecta de hacerlo y de mantener a tus jugadores cerca.
Es bien sabido que para prestar un servicio con éxito, debes estar siempre por encima de las expectativas de tus clientes. Por lo tanto, servicio de atención al cliente de juegos debe reflejar tu nivel de compromiso al ofrecer de forma consistente un soporte rápido, personal y proactivo a los jugadores.
Servicio de atención al cliente de juegos- ¿Cómo de importante es en realidad?
La industria de los videojuegos se está dando cuenta de que el servicio al cliente puede ser más que un factor de coste; puede ser un importante generador de ingresos. Los mejores desarrolladores de videojuegos saben que para mantener la lealtad y la satisfacción de un jugador al más alto nivel, es extremadamente importante tener un sistema de soporte de calidad. Los jugadores tienen grandes expectativas respecto a los juegos, por lo que hay que darles la asistencia que esperan.
Para tener el mayor número posible de jugadores y hacer que vuelvan cada vez más tiempo, debes prevenir y resolver con éxito los problemas técnicos, de pago o relacionados con el juego. Si haces esto, los jugadores seguirán divirtiéndose, recomendarán el juego a sus amigos e incluso te comprarán más juegos. Por lo tanto, es vital hacer que los jugadores sientan que han sido ayudados de la mejor manera posible.
Puntos clave para tener jugadores comprometidos
Para garantizar que el servicio de atención al cliente esté siempre a un nivel alto, he aquí algunos de los puntos que deben cumplirse.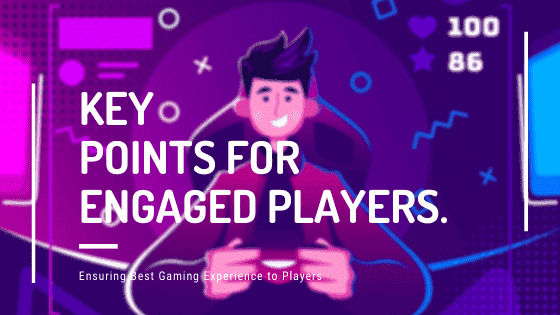 1. Entender a tus jugadores.
Los jugadores necesitan sentirse implicados tanto con el juego como con la compañía que lo ha creado, y deben preocuparse cuando se encuentren con un error, un fallo o cualquier otro problema que afecte a la experiencia de juego.
Porque cuando hablamos de juegos, hablamos de una experiencia, y no de cualquier otro producto como una mesa o una alfombrilla de ratón. Los jugadores no jugarán a otra cosa cuando encuentren un fallo, pero sí lo harán si reciben una ayuda deficiente.
2. Adaptar el servicio de atención al cliente a las plataformas específicas.
El servicio de asistencia a los jugadores debe adaptarse a la plataforma favorita de los jugadores, como un PC, una consola o un móvil. Tu servicio también debe adaptarse a diferentes tipos de jugadores.
3. Asegurar el soporte en tiempo real, multicanal.
Tienes que responder a las solicitudes y consultas de tu jugador, ya sea a través del correo electrónico, el chat en directo, las plataformas especializadas o las redes sociales. Tienes que asegurarte de que tus jugadores se dentro de tu comunidad y utilicen esa información para impulsar la innovación continua y esperada.
4. Asistencia Integral Multilingüe para Jugadores
Para los jugadores implicados, tienes que proporcionar las soluciones más precisas y con más conocimientos en cualquier idioma, hablar el mismo idioma que tus jugadores y entender los problemas a los que se enfrentan.
Conclusiones Finales
Cada punto de contacto con un jugador es una oportunidad para destacar entre la multitud, crear lealtad de marca, aumentar el valor de vida de un jugador, e incluso utilizar la retroalimentación en tiempo real para mejorar los juegos. Por eso, los que se ocupan de este servicio deben ser profesionales e, idealmente, ser a su vez jugadores. Nadie entiende a los jugadores mejor que otros jugadores, por lo que su equipo de asistencia debe estar formado por personas que también jueguen a los videojuegos, o al menos que entiendan el juego. Contratar a jugadores que entiendan la pasión de sus entusiastas compañeros, y que hablen su idioma, puede producir un soporte aún más gratificante y una conexión más significativa.
Starloop Studios proporciona servicios integrales de atención al jugador para estudios de juegos, editores y desarrolladores de todo el mundo. Nuestros comprometidos y empáticos equipos de asistencia a jugadores multilingües están perfectamente capacitados para ayudar a aumentar la visibilidad de su juego online y hacer que sus jugadores vuelvan cada vez más tiempo a través de un cuidadoso y extenso servicio de asistencia en varias plataformas.
Starloop Studios is proud to be part of the Magic Media group, an international group specialising in entertainment and gaming industry services. Our wide range of offerings includes VFX, blockchain gaming, game art services, and more. Reach out today to avail of our expertise and A-Z services for your projects.