Scribble Rider: Game Art Marketing by Starloop for the # 1 Game in 25 Countries
The world of video games is evolving and improving to add as much fun to the players' lives. If someone wants to play an action game that keeps them engaged, but without feeling frustrated, Scribble Riders can be the best hyper-casual game that can be played at this moment!
In collaboration with Tapped Studios, the Starloop Studios art team created new experiences and art perspectives for Scribble Rider players by creating new icons and banners.
Until we reach the best final version, our talented artists created a few sketches of the icon and the banner. We wanted to feature the most significant elements in the game, such as the different characters and the types of bikes (swimming bike, drone, etc.). The one below is the final banner we created.
The second banner that our artists created for Scribble Rider includes new bikes and wheels the player gets to unlock. These are: the coaster bike, the wooden bike and the Tron-like bike. The wheels are french bread, pencils and tentacles.
And lastly, this is the final icon that our Starloopian Artists created for Scribble Rider, to showcase the most distinctive aspects of the game, which is the drawing feature.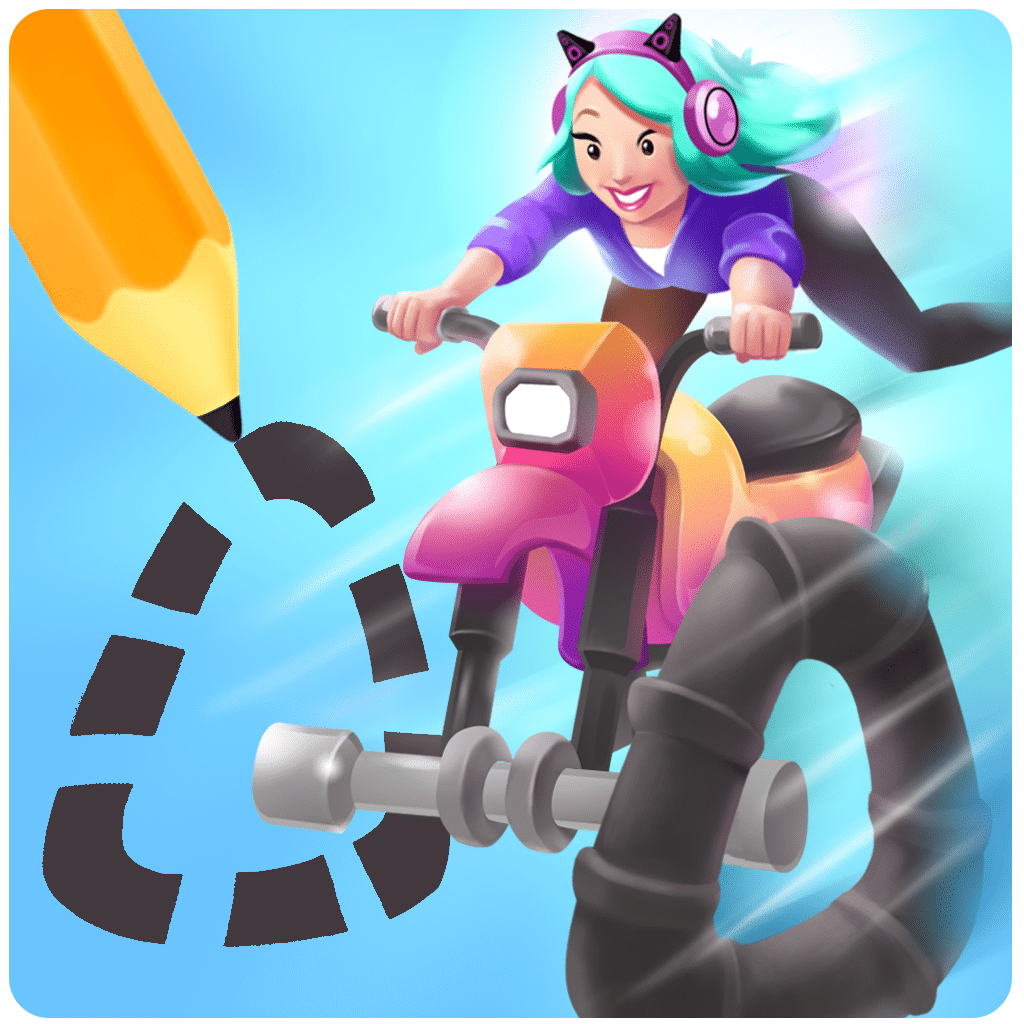 Scribble Rider- the top ranked mobile game
With 20+ million downloads, Scribble Rider surpasses the imagination of players around the world, but especially in the US, where it is currently Top 1 Mobile Game Overall (source: www.tapped.io). Scribble Rider is currently ranked #1 in free Games apps for iPhone, as well as #1 in free Games apps for iPad.
According with appmagic.rocks, Scribble Rider earned more that $50k in estimated monthly revenue and was downloaded 20K times in July 2020. One of the factors that has made the game so popular is that players love making wheels out of any shape they draw – even if that "shape" is just a straight line, a zig-zag, or whatever they want.
The importance of the game art marketing for the success of your game app
Game art marketing is a very important piece of the puzzle that reveals how great games should sound, feel, and look. The power of marketing assets done right contributes greatly to the success of your game.
Its job is to convey the essence of the game and instantly capture people's attention, and to do so in such a way that compels them to start playing. Each game is a story, and great art marketing has the power to launch people into that journey. If the final results express the energy, emotion, and technical quality of the game, the chances that your game will be among the most played increase a lot!
Game art solutions for your game app
If you want innovative art solutions that are true to your vision, our Starloopian artists know how to highlight your game through their experience in game art marketing services. We consist of professionals that cover all the stages of art production from creative concept and sketching to the development of outstanding animated 3D characters, texturing and rigging, making environments, UI and UX and 2D elements. We deliver 2D and 3D game art services to our clients as a part of full-cycle development and as separately to the project in progress.

For an efficient solution based on your technical requirements, time and budget, feel free to contact us!

[youmayalsoread-blog post_id="25067"]