"¿Cuánto cuesta el arte 2D y el arte 3D?" puede ser la primera pregunta que se te ocurra cuando pienses en contratar a un artista de juegos. Si es así, debe saber que en el coste del arte 2D y el arte 3D influyen varios factores. El precio difiere de una empresa a otra, dependiendo de la zona geográfica, la complejidad del proyecto, la experiencia del artista, etc.
Para que el artista del juego te dé un presupuesto sobre sus costes de arte 2D y 3D, tienes que darle todos los detalles del proyecto para analizar y estimar la complejidad del mismo. Todo el juego se basará en el concepto de arte que diseñará, que puede incluir entornos, personajes, sus ropas, accesorios, diversas armas, y todos los detalles que crean las imágenes en el juego.
Costes del arte en 2D frente al arte en 3D
Dependiendo del tipo de animación, 2D o 3D, el coste puede variar. La animación 2D requiere habilidades de dibujo más tradicionales, mientras que la animación 3D requiere mucha más ayuda de la potencia de cálculo y las capacidades de software para hacer el trabajo (e implícitamente, mayores costes).
A primera vista, podría decirse que el arte en 3D cuesta más que la animación en 2D, pero no siempre es así. Por ejemplo, si la animación 3D sólo consiste en hacer un simple vuelo de cámara en una escena estática que simplemente se ilumina y se renderiza, el coste de crearla será probablemente más barato que producirla con animación 2D para las mismas tomas. Esto se debe a que los modelos de entornos animados en 3D sólo tienen que crearse una vez y se pueden utilizar durante todo el tiempo que se desee sin que el artista del juego tenga que realizar ningún trabajo adicional. Pero en el caso de la animación 2D, el artista tendrá que volver a crearla siempre que ese fotograma específico tenga un aspecto diferente.
Factores de los que dependen los costes del Arte 2D y del Arte 3D
Tiempo invertido en el proyecto. Como verás en la fórmula de cálculo que aparece a continuación, el tiempo es una de las variables más importantes a la hora de calcular los costes del arte 2D y 3D. Para crear un arte conceptual de calidad, se necesita tiempo, y el tiempo dedicado a un proyecto se convierte para los artistas de juegos en dinero. Cuanto más tiempo se dedique a la creación del concepto de arte, más largo será el arte 2D y el arte 3D. Además, si se quiere acelerar la finalización del proyecto, habrá que pagar un extra.
Cuántos artistas del juego trabajan en tu juego. Cuantas más mentes creativas trabajen en tu proyecto, mayor será el coste del arte 2D y del arte 3D. La complejidad del proyecto es uno de los factores que modifican los costes. Si la carga de trabajo es mayor y el proyecto requiere más personajes, entornos, detalles complejos y un mayor número de elementos, es bueno trabajar con un

estudio de subcontratación de arte de juegos

porque la calidad del trabajo será superior y el proyecto se completará más rápido.
Los detalles que quieres añadir a tus juegos. Un videojuego realmente bueno está determinado por la calidad del arte conceptual y los detalles de las imágenes. Cuantos más detalles haya, más vivo estará el juego. Pero eso supone un trabajo extra para los artistas del juego, por lo que el coste del arte 2D y del arte 3D se incrementará.
La fórmula de cálculo del coste del Arte 2D y del Arte 3D
La mayoría de los artistas de juegos calculan el precio de su trabajo en función de las horas que invierten en la creación del proyecto. Para calcular el coste del arte 2D y el arte 3D, debes multiplicar el número de horas por el coste por hora del artista del juego.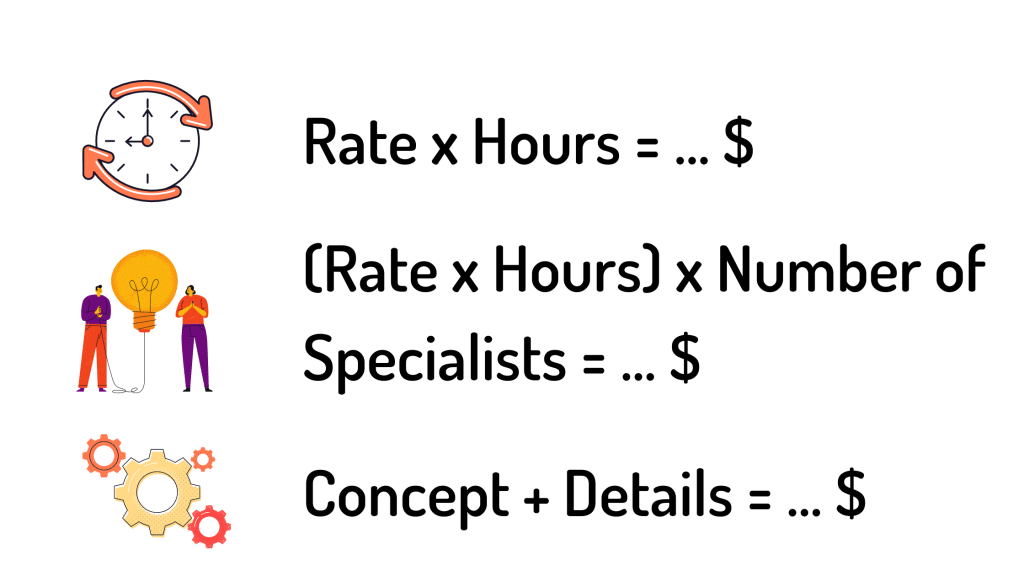 Si el proyecto es más complejo y necesitas más artistas de juegos, haz la misma multiplicación anterior y multiplica el resultado por el número de personas que trabajan para ti. Lo más probable es que el desarrollo del proyecto requiera requisitos especiales e imprevistos que mejoren el resultado final.
Tarifas de los Artistas Conceptuales Alrededor del Mundo
Dependiendo del tipo de arte y del nivel de experiencia, a continuación presentamos las tarifas que pide un artista de juegos por una hora de trabajo.
Estudio de Externalización de Arte de Juegos 2D y 3D para Obtener los Mejores Resultados
Para obtener los mejores resultados para tu proyecto, necesitas asegurarte de que los artistas de juegos con los que trabajas entenderán tu visión y te darán exactamente las soluciones que necesitas. Starloop Studio cuenta con un completo equipo de profesionales que cubren todas las etapas de la producción de arte del juegodesde el concepto creativo y el bocetaje hasta el desarrollo de excelentes personajes animados en 3D, el texturizado y el rigging, la creación de entornos, la UI y la UX, y los elementos 2D.
Starloop Studios is proud to be part of the Magic Media group, an international group specialising in entertainment and gaming industry services. Our wide range of offerings includes VFX, blockchain gaming, game art services, and more. Reach out today to avail of our expertise and A-Z services for your projects.